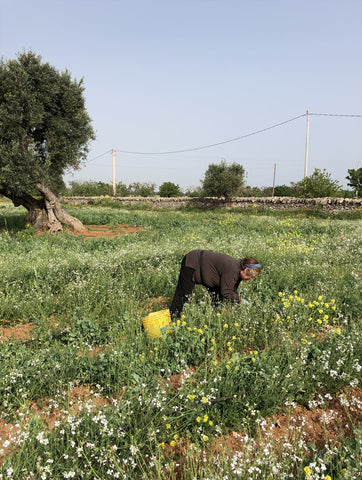 Human Touch
Whether in the home, workplace, schools, libraries or other spaces, Peter Lewis Paints carry the imprint of human hands. From sourcing and grading the mineral pigments to processing them in our factory in Sydney — our paints are made with the care and attention characteristic of artisanal industries. Rather than the impersonal nature of mass-manufacturing, each step of our supply chain imbues our paints with layers of quality, which reveals itself in the final product.
Traditional processes
An important part of our team is 'Fred' — our triple roller mill made in Weymouth, England, and found its way to our factory in Sydney. This original mill has been beautifully serviced and maintained so that we're able to process our paints in the old way. Besides honouring the traditional craft and techniques, processing this way means that we can grind our pigments to a beautiful, smooth lipstick-like paste, achieving a much higher standard than more modern machinery — all without using any nasty additives.
Small batch
Because we're making our paints in the traditional way, our production has to be small batch. Our paints take significant time to make —the pigments are produced over time as the result of a natural process; we take great care in sourcing; and production requires close attention and the use of our original hand-operated machines. So, we consider each Peter Lewis Paints product as a bespoke item, layered with inimitable history and quality.